The Story
Commercial real estate is fascinating because we all unknowingly contribute to its value. For every business that rents, leases or owns space, ultimately it is our patronage that sets the sales price.
Over the course of 20 years, a top-producing broker from California optimized his workflows and processes to increase his performance. He was inspired to turn his knowledge into a comprehensive SaaS platform that could change the industry by opening access to real-time market data, analyzing financials faster and marketing directly to qualified buyers.
---

Naming the product BlazeBroker is based on the memorable alliterations in the names of popular superheroes and many alter egos:
The Silver Surfer; Wonder Woman; Clark Kent; Peter Parker; Matt Murdock; Bruce Banner; Richard Reed.
Commercial real estate brokers only earn when the sale closes. They either win or lose, making them highly competitive and determined. They are hunters of opportunity. Speed is their advantage. They are like the Cheetah.
BlazeBroker's user experience takes into consideration the determining success factor:
The professional's positive attitude.
My role: Lead UX Designer; UI Designer; Visual Designer; Hired and managed contractors
I joined the founding team right after the framework for a modular SaaS product was built. From a comprehensive third-party user research report, I architected a user experience that spanned the subscription, on-boarding, to the modules and their hierarchy of task flows. I created the name, brand and visual identity to reflect the psychographics of the broker community.
---
The Opportunity
Buying and selling commercial real estate is highly regulated by legal and administrative institutions which delays the adoption of up-to-date technology. When market data is fragmented and disparate software tools require managing separate licenses, there is a prime opportunity to improve the system with consolidation and integrations.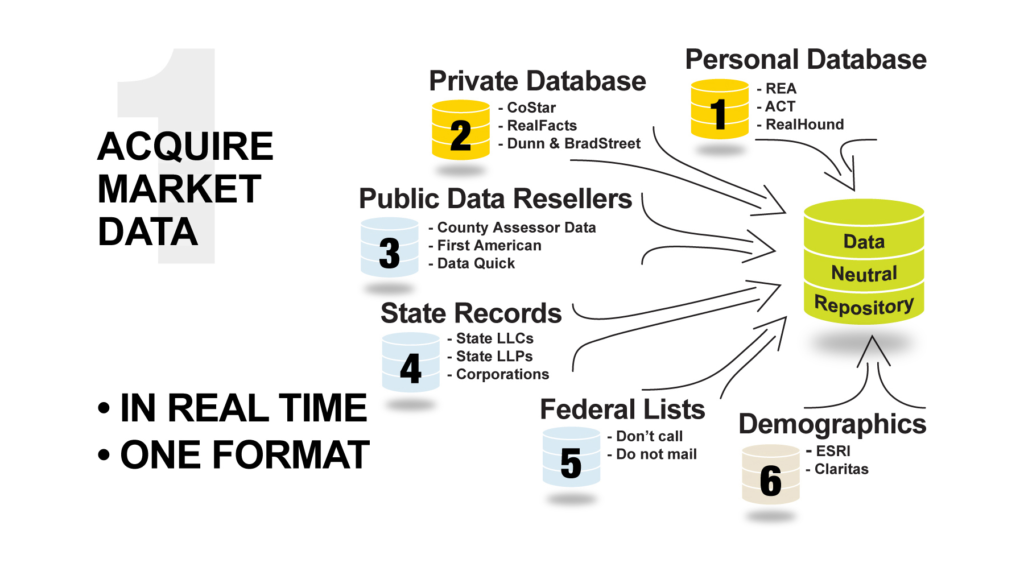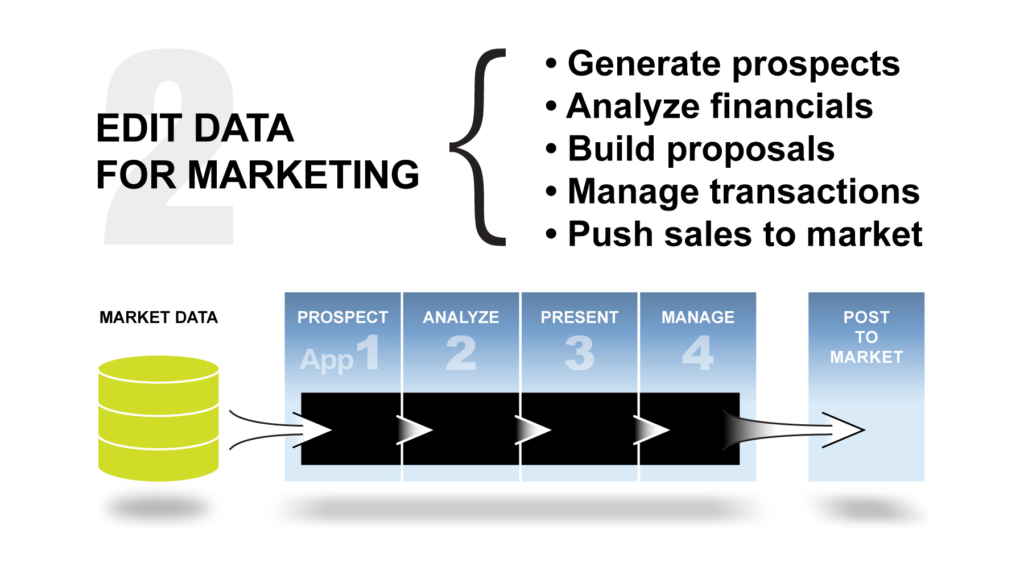 ---
User Research
Despite being a bootstrapped startup, we acquired a comprehensive study of the industry's trends and the influence on using technology, complemented by detailed profiles of brokers' career levels and needs.
In 2010, reportedly 50% of the broker community was made up of small to medium size boutique local brokerages.
Their motivation to operate independently is to keep their full commissions.
The other 50% works for regional or national brokerages that provided proprietary software, vast market data, administrative assistance, brand recognition, and long marketing reach in exchange for a portion of the commissions.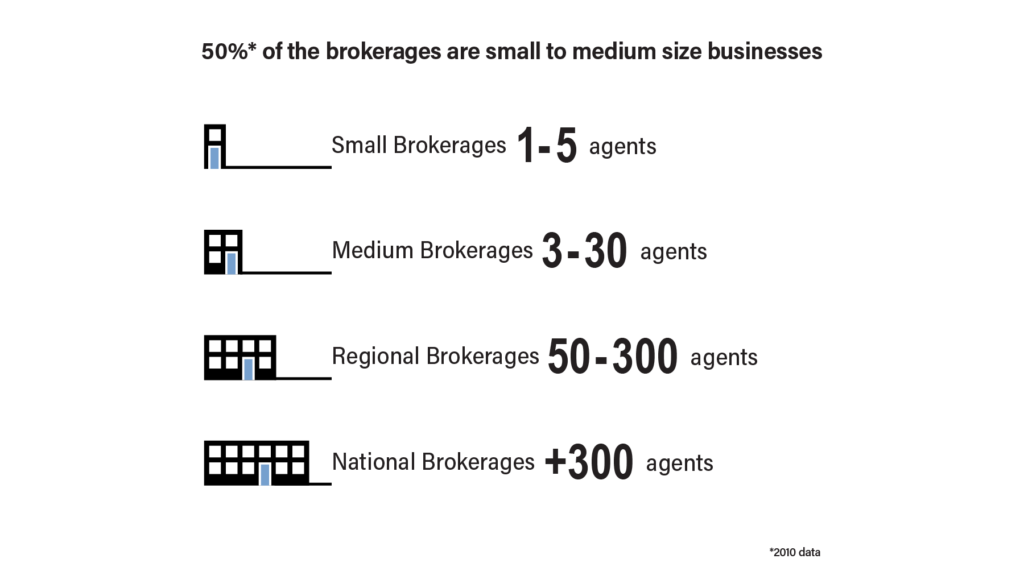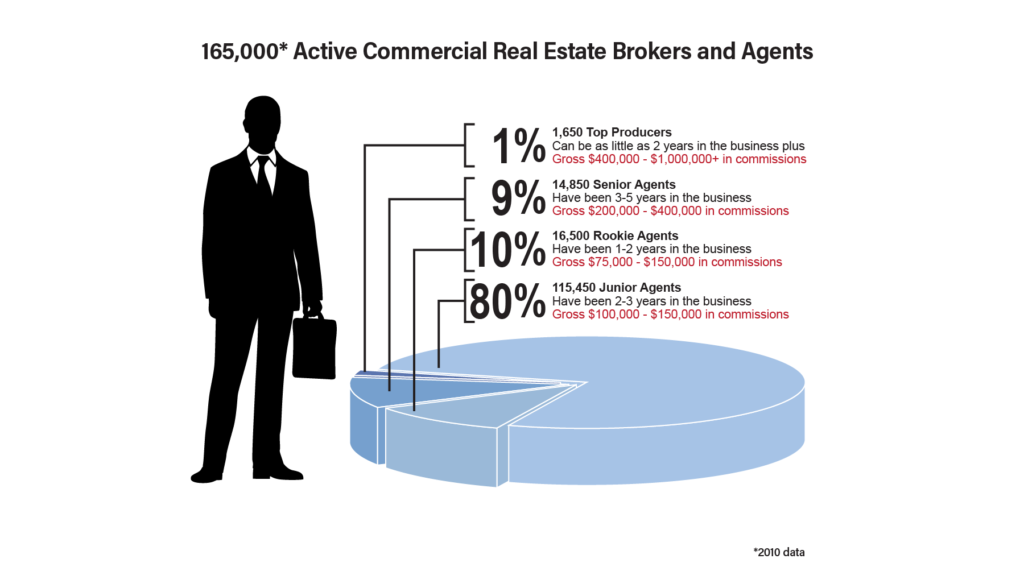 Segmentation
The number of years the professional has been in the business.
The performance of the professional measured in commissions.
The contract to a national, regional, medium or small sized brokerage.
Career Trends
Large brokerage firms are the entry point of the profession where junior agents typically receive their training. As the ability increases to earn more commissions, seasoned professionals gravitate to smaller organizations, even to becoming completely independent.
Target Demographic
Trainee agents burden their company until they are capable of generating commissions. This takes about 9 months from the date of hire. BlazeBroker aimed to reduce that cost by shortening the ramp up time to commissions.
Understanding Needs
The needs of these professionals evolve as they progress from being trainees, to junior agents, onto senior agents, with some distinguishing themselves into top producers.
•••• Needs of Trainee Agents
A cohesive and comprehensive learning process
Automation for updating market, contact, and property information
Automation for preparing marketing materials
•••• Needs of Junior Agents
Immediate availability of market and demographic data
A streamlined process for assembling data into presentations
Communicative within a framework of authority and team structure
•••• Needs of Senior Agents
More time for mentoring junior agents and trainees
Reduce time managing deals for more time making deals
Greater productivity and more face time with clients
•••• Needs of Top Producing Agents
Spend more time with clients
Shorten training period to reduce trainee salary costs
Greater team productivity
---
Defining a mobile user experience
The foundation of BlazeBroker's user experience is the design of its sequential workflow. The governing concept behind its user interface is enabling brokers to instinctively and quickly progress through the sales process step-by-step, and still have the option to navigate to any area in the application. This is what makes it structured, flexible, clear, simple and easy to use as a mobile application.
---
Information Architecture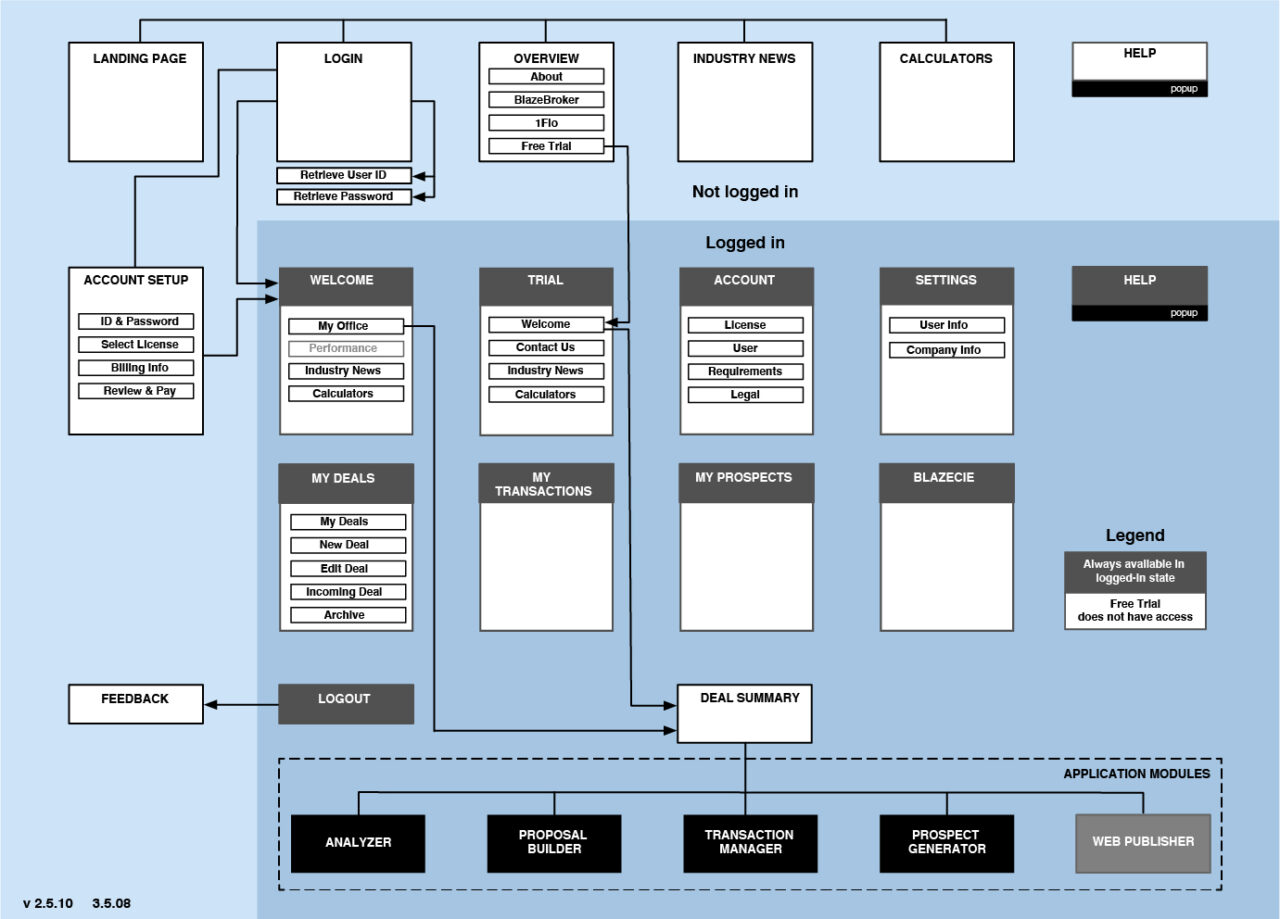 ---